Mindy Newman's Art Classes 2018

Franklin Park Conservatory, 2018

  16" x 20"      Watercolor - Mindy Newman

Click on the above Painting to Register

On Line

1945 Ridgeview (Off Tremont)

Upper Arlington, Ohio 43227

BEGINNERS WELCOME!

614-583-5320- Information

Classes are only $10 per class

Classes are every Tuesday 1-3 PM Walk Ins Welcome!

Pears - 2009 A quick exercise used in Mindy's class sometimes

7" x 12" Watercolor - Mindy Newman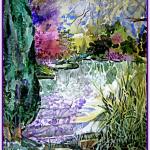 Fine Art America -Sells Prints of Mindy's Works

Click on the link above to view and shop on line.  


Here is an example of a lesson 

Playing with Wet into Wet

Mindy Newman © 2017

Using a pencil on grid to your watercolor paper, begin to draw the same shape over and over. If you wish to may a project of it, use themes, such as orchids, tropical leaves, you can later. But just for now, keep it an exercise and use a circle, square or triangle. 

Use as many squares in your grid as you like, starting from 6, 8, 10, etc. 

This is to allow you time to explore the beauty of 

Wet in Wet techniques. 

Here are some Tips on this Process

1.

Make a thick and thin wash. Drop thick into thin and vices a versa. 
2.

Make a large amount of three basic colors
3.

Change your brush to clear water reverse flows 
4.

Avoid brush strokes by touching with the tip of the brush onto the wet paper. 
5.

Leave some paper whites
6.

Don't over work the paper in one area. Let it dry. 
7.

Move around the paper to allow drying to occur. 
8.

Try mixing on the paper in opposite colors, analogous color, and finally tertiary colors. 
9.

Create some neutrals on the palette by mixing opposite colors. 
10.

Try dry brushing under and over the wet into wets. 
Franklin Park Botanical Gardens 

and Conservatory

1777 E. Broad St. 

Columbus Ohio

Learn to paint with watercolors using the Conservatory's botanical gardens and summer blooms as your inspiration. This series, open to all skill levels, focuses on pink wildflowers. Register for the three-week series, or take an individual class

Pasture Thistle (Cirsium discolor)

Boasting bright pinks and purples, this spiny plant is loved by bees and butterflies. This class is a good chance to test our skills with those critters. Reference photos provided.

Saturday, August 11, 1–3pm

Morning Glories

They cling to our backyard bushes and fence, and even the corn stalks in the fields. They are brightly colored in pink too! Reference photos provided.

Saturday, August 18, 1–3pm

Purple Coneflower (Echinacea purpurea)

A favorite to many for its healing properties and is attractive to butterflies. A wonderful flower subject for watercolorists.

Saturday, August 25, 1–3pm

ADULTS

SERIES: $60, $50 FOR MEMBERS

PER CLASS: $20, $18 FOR MEMBERS

(PER PERSON PRICING)

SATURDAY, AUGUST 11, 2018

1:00 PM TO 3:00 PM

THE CONSERVATORY

614.715.8022